Join the renewal in Greenfield
9 Days of Rebuilding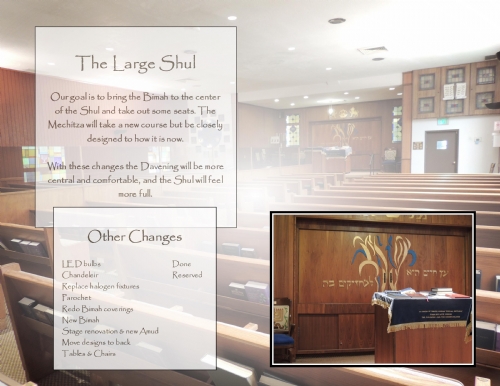 Thank you to our Partners


Schneur Landa
In honor of Yonasan Sanford!

Prof.Harris Winitz
in honor of Rabbi Chonie Friedman


Nancy November
With gratitude for the prayers of my family and friends for my refuah sheleimah, on the 3rd anniversary of my brain injury, 16 Av.


Dvir Lev HaLevi Moritz
In honor of Menachem Mendel Ben Yehuda Elisha Cowen

mordechai and nechama huber






Miriam Weiss
Hatzlacha Rabbah!!

Anonymous
לזכות מלכי-צדק בן גבעון וכל משפחתו





Ely Rosenfeld
In honor of the best Rebbitzen Frumie






Keren Leeds
In the zechus and refuah shelaimah for Rena Bas Basya and Michoel ben Rochel hakohein


Mark & Naomi Poznanski
In honor of Odaiah and Shalom Leeds


Elchonon & sheri Kass
In honor of the yahrtzeit of Avraham Ben Kalman Margolis

Yossi & Rivky Friedman
Much hatzlacha!




Philip and Melissa Goldberg

Tzvi BACKMAN
In honor of Rabbi and Rebbetzin Friedman

Ephraim Rudski
In honor of Zalmy and Shoshi Thaler

Anonymous
Shalom and Odaiah Leeds


yechezkel wolff
In honor of the Friedmans

Shua and Shoshana Hoexter

Avraham & Etty Poznanski
In honor of the Leeds family




Rivkee and Mordy Rudolph
In honor the Friedmans!



Zalman Thaler
Zalmi & Shoshi Thaler & family in honor of Zalmi's grandfather's yohrtzeit








Chazz P
Hope the greenfeild community continues to grow ☺

Lynn Friedman
In honor of Shalom & Odaiah Leeds and family



Yechezkel Deren
Hatzlocha Rabba!



Eli Deitsch
Yartzait of Yasef Yitzchok Ben Sholom Yeshaye A"H

Rabbi Yehoshua B. Rosenfeld

Rabbi Yisroel and Blumi Rosenfeld

Ely Rosenfeld
Fox Chapel Rosenfelds


Henoch and Sarale Rosenfeld
Hatzlacha Rabbah!


Dovy & Chaya Reisner
In honor of the birth of Noam Lev and our growing family KA"H. This shul and community should be zocheh to many blessings and only revealed good.





Eliyahu Cowen
Yasher koach to Yehuda & Chaya for building up the greenfield community!

Rabbi & Mrs. Friedman
hatzlacha rabba

Roman & Svetlana Sorkin KS



Dr. & Mrs. Pinny Herman
(wrong amount chosen earlier)


Dr. & Mrs. Pinny Herman
In loving memory of Lee & Eileen Herman. May they have a lichtege Gan Eden.

Benjy Grinberg
In honor of Mitchell Hoffman

Yossi & Faigy Chapley
In memory of Zaidy Akiva Flamenbaum (Akiva ben Avraham Moshe) who was Niftar on the 6th of Adar(2)







Choni and Frumi Marozov
From and to :) Rabbi Choni and Frumi. Hatzlacha!


Zalmen Marsow
Hatzlocho Rabo






Yossi & Suri Marozov
אסאך הצלחה אין דיינע שליחות

Teresa Chancellor
Memory of Dr. Stephen Miles Estner





mindy wajcman
in honor of Rabbi and Rebbbetzin Ben Tzion Friedman




Yitzi Rothman
In honor of the birth of Batya Rothman



Jeff Blackman
Zichrono l'vracha Mordechai Meier Ben Yosef Aharon.












Bracha Levin
It's a Moshiach way to greet these 9 days! Chodesh Tov.